SAVE A LIFE
---
Uncontrolled bleeding is the number one cause of preventable death from trauma. Watch the University of Utah's dramatization below to learn about the kits, the contents and what to do in case tragedy should ever strike. It may just save a life.
PRIMARY PRINCIPLES OF TRAUMA CARE RESPONSE
---
A
ALERT - CALL 911
Get Help. Call 9-1-1 yourself OR tell someone to call 9-1-1.
This will notify emergency medical responders and, depending on the situation, police officers to respond to the scene.
B
BLEEDING
Find the source of bleeding. Open or remove the clothing over the wound so you can clearly see it. Identify "life-threatening" bleeding. By removing clothing, you will be able to see injuries that may have been hidden or covered.
C
COMPRESS
Compress. There are a number of methods that can be used to stop bleeding and they all have one thing in common – compressing a bleeding blood vessel in order to stop the bleeding.
APPLY THE TOURNIQUET

If you do have a trauma first aid kit; for life-threatening bleeding from an arm or leg and a tourniquet is available:

Identify massive bleeding.
STRETCH: for tourniquet-place above the wound (between wound and heart).
WRAP: wrap tightly, ensuring ovals/rectangles change to circle/squares.
TUCK: tuck the end. Pre-plan for best results
Write the time of application on the tourniquet.

NOTE: A tourniquet will cause pain but it is necessary to stop life-threatening bleeding.

PACK & PRESSURE THE WOUND

If you do have a trauma first aid kit: for life-threatening bleeding from an arm or leg and a tourniquet is not available or for life-threatening bleeding from the neck, shoulder or groin:

Open the clothing over the bleeding wound
Wipe away any pooled blood
Pack (stuff) the wound with bleeding control gauze (preferred), plain gauze, or clean cloth
Apply steady pressure with both hands directly on top of the bleeding wound
Push down as hard as you can
Hold pressure to stop bleeding. Continue pressure until relieved by medical responders.

APPLYING THE HALO SEAL

If you do have a HALO seal: the HALO Seal was specifically developed for casualties with excessive bleeding, heavy perspiration, or very wet and extreme environments.

This device is a non-resorbable and non-sterile occlusive wound dressing intended to cover a wound, to provide a mechanical barrier.

Clean and dry wound
Remove one product from release liner
Place seal firmly over the center of the wound, adhesive side down
Apply light pressure to assure adhesion
Repeat instructions with the second dressing, if second wound is present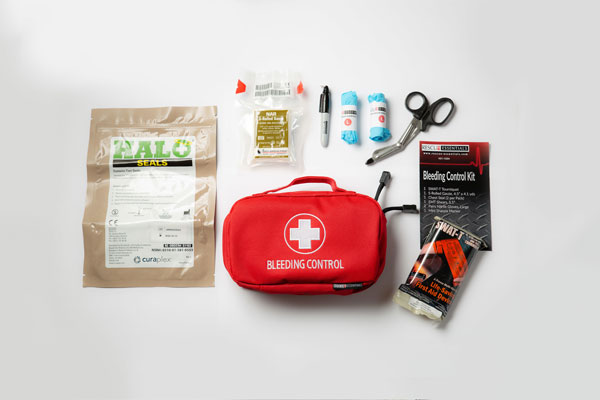 EACH STOP THE BLEED KIT CONTAINS:
1 SWAT-T Tourniquet
1 S-Rolled Gauze, 4.5" X 4.1 yds
1 Chest Seal (2 per pack)
1 EMT Shears, 5.5"
2 Pairs Nitrile Gloves, Large
1 Mini Sharpie Marker
FIND A KIT:
There is a complete Stop The Bleed Kit located within each AED/Defibrillator case.