---
University of Utah mobile app for safety, response and emergency notifications
The University of Utah "U Heads Up!" app provides students, faculty, staff and visitors with a quick-reference campus emergency response guide, a photo and comment upload to tell us about your safety concerns around campus, and push notifications from our Campus Alert system. Get the important emergency information you need to stay safe at the University of Utah.
STEP 2: FOR FACULTY/STAFF/STUDENTS
---
Login to the U Heads Up!  app with your University ID, and watch this video:
There is no longer a need to download and install plans separately. Plans will be automatically loaded if you sign in with your University ID (yourUnid@utah.edu)
STEP 2: FOR CAMPUS VISITORS - DOWNLOAD "PLANS"
---
All of the instruction, training, and emergency tips and are grouped together under "plans".
Once the app is on your phone, follow these instructions to download campus emergency plans and tools:
Emergency Response Guide:  This plan is a digital version of the flip charts we hang in many office spaces around campus.
See Something / Say Something:  This plan is a crowd-sourcing tool to tell us about unsafe or hazardous conditions around campus. You can take a picture, add a comment and send it emergency management personnel right from the app. See Something / Say Something is not intended to replace 911 -- if you see a life-threatening or emergency situation, please call 911.
Campus Alert - Push Notification:  If you are NOT a student, faculty or staff member but still need Campus Alert notifications, download this plan. When Campus Alerts are sent out via SMS and email to the campus, you will also receive push notifications to the U Heads Up! app.
HOW TO ACCESS PLANS - WALKTHROUGH
---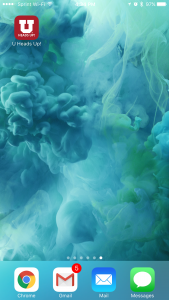 1.
Download and Open U Heads Up! mobile application on your phone or tablet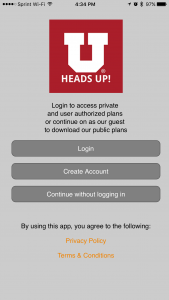 2.
Click "Continue without logging in", ignoring the prompt to login or create an account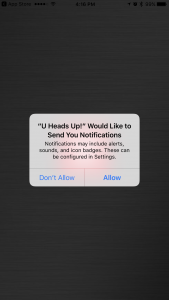 3.
If prompted to allow notifications, click "Allow" to receive up to date information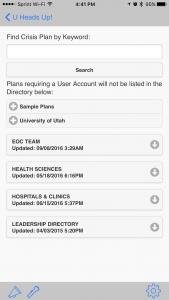 4.
The app should redirect you to download plans. If you appear to be on an empty screen, click the "+" in the top right corner
From the plans screen, under the search box, click on the plus icon ("+") in the circle beside "University of Utah".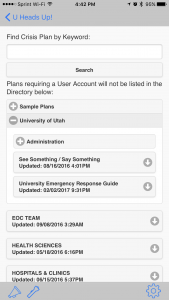 5.
Download the "Emergency Response Guide" and the "See Something/Say Something" plans.
If you are NOT a student, faculty or staff member but still need Campus Alert notifications, download the "Campus Alert - Push Notifications" plan